Information
The Mule Trail race is open to unique riders willing to complete the entire course, on a human powered bicycle, while being self-sufficient and self-supported.
Riders are required to have a GPS device to receive course files and use it to navigate during the race as well as a SPOT satellite tracker to share their location at all times.
The rules for participating in The Mule Trail Race are simple:
- Be self-sufficient, self-propelled and self-reliable. No outside support
- Complete the entire course as designed. If you have to leave the course to seek shelter, food, supplies or care, be sure to return at the same point. No shortcuts!
- Keep your SPOT tracker on during the entire race
- Be nice and courteous to fellow participants, race crew and locals
- Leave only your tracks behind
- Respect all traffic laws at all times and stay off private property. The entire course is done on public roads and trails
- Have fun and be safe!
Our choice for The Mule Trail are Borealis Fat Bikes with either 26x4, 27.5x3.5 or 29x3 inch wheel/tire set ups. This is mainly for the stability while loaded, control on loose gravel, comfy ride and advantage on muddy and sandy sections, however you can ride any type of bicycle as long as it human powered (NO E-BIKES). Most of the course is suitable for any mountain bike or gravel bike. Long, steep climbs will require very low gearing ratios. 28 and even 26 tooth front chain rings are recommended for 1x set ups and it never hurts to have cassettes with ranges up to 46 or 50. Braking power will also be important for long steep downhills on a heavy bike. Add some heat or rain and you'll be cooking rotors and pads in no time.
You can decide how little or how much food and water to carry, however we recommend you carry enough liquids and food on you to last you at least 8-12 hours and refuel as you go. Even in the deepest portions of the jungle you'll never be more than a few hours to a store (called Pulperias) to refill bottles and packs and load up on food. There will be small restaurants along the course too (these are called Sodas) where you could get a warm meal. The exception to this is at night. Most establishments in the rural areas will rarely stay open past 6 PM, so if you plan on pushing through the night, you may want to load up in advance.
The essentials: riding clothes, bike, shoes, helmet, GPS, hydration pack, map, sun shades, gloves, rain jacket, lights, money, sleeping bag, tent, hammock, personal care, cargo bags, tools, spares, phone, camera, etc.
Hotel El Ceibo in San Vito is our host hotel for the event, however there are other lodging options in San Vito or even in Agua Buena, closer to the race start. Once on the course riders will need to figure out their own sleeping arrangements. There are a few rustic, basic lodging options (called cabinas) along or near the course, mainly in some of the bigger towns the trail passes. Most people will be willing to provide you a space on their yard for you to set up or even rent you a room in their home if you ask nicely. If you decide to take a power nap in the wild, we recommend hammocks over sleeping on the ground. Lots of slithering critters out there specially at night.
The weather in Costa Rica is quite unpredictable. The months of January and February are the driest, however that means temperatures will average low to mid 80s Fahrenheit/26-29 Celsius, but they could get near 100 Fahrenheit/38 Celsius, especially near the coast. Humidity will be high too, often over 80%, without completely ruling out the possibility of a scattered shower to get things sticky. Ventilated clothing, proper hydration as well as avoiding extraneous efforts during the really hot times of the day will prevent heat related illness. Rain may bring temperatures down to low 70s F/20s C , especially at night but unless you are caught in these conditions at one of the higher points of the course the temperature will rarely dip below 60 F / 15 C. Just remember to apply plenty of sunblock.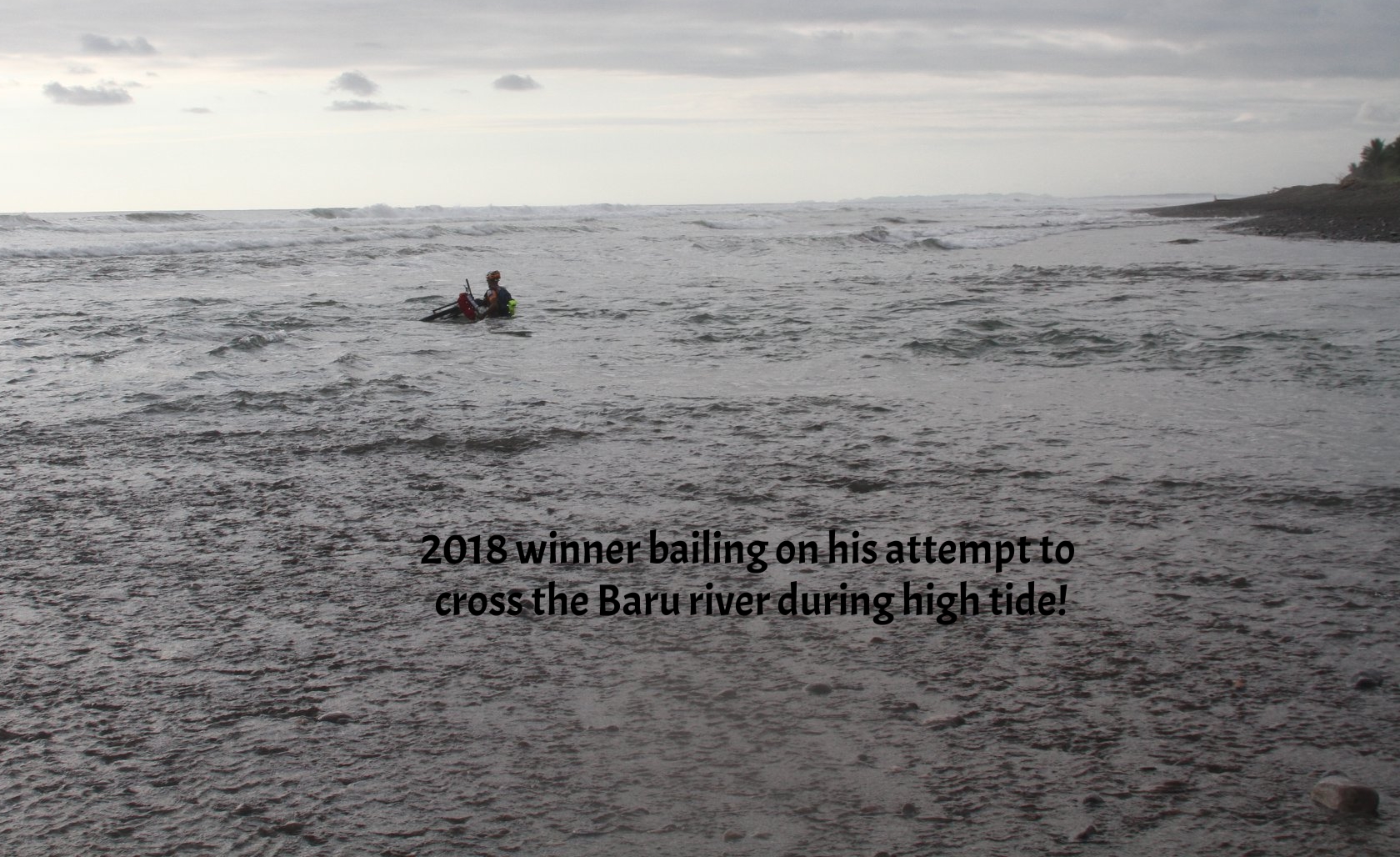 There will be plenty of water crossings along The Mule Trail, most of them will be small streams and creeks that provide no danger, otherwise offer a great opportunity to cool off. Others will be a little bigger and require more attention, especially the Térraba river (Costa Rica's largest) at KM 70. The Térraba CANNOT be crossed by foot. Arrangements will be made with a local family to offer a canoe crossing service. The Paquita and Barranca rivers can be waddled if no torrential rains have increased their flow. The beach portion of the course starts at the mouth of the Barú River and it crosses a few other creeks as they reach the ocean. If done during high tide, additional care will be required. Finally, unless you have purifying tablets DO NOT drink water from a river or stream. You never know what's upstream.
This event is not for everyone and while we assume that most experienced riders in these type of events are prepared to face anything that comes their way, it never hurts to remind us what could be out there. Costa Rica is famous for it's biodiversity and protection of natural resources. The Mule Trail gives you a front seat show of some of the most remote areas of the country, so it's good to remember that we are invading the territory of many especies of wild life. Small to mid size wild cats of different varieties, alligators and venomous snakes are all out there, however you are most likely to be chased by a vicious farm dog. Either way, never let your guard down.
The Mule Trail Grand Depart
Wednesday, January 8th, 2020
9:00 AM
Cañas Gordas de Agua Buena
Coto Brus, Puntarenas
Getting There:
You must arrive to San José, Costa Rica no later than Monday, January 6th. The race start location is about 300KMs south of the capital. There will be ground transportation service leaving San José the morning of Tuesday, 7th. The journey south takes approximately 6 hours by car. It's very scenic but also a long drive. There is also the option to book a local flight to Golfito (located about 2 hours from San Vito) via Sansa Airlines, which only takes about an hour. A shuttle can be arranged to transfer you from Golfito to San Vito, however your bike and gear will need to be sent via ground transportation service; as the local planes are small, twin engine, turbo prop aircrafts, with limited cargo capacity. If enough people are interested, a private chartered flight can be arranged from San José directly to the landing strip in San Vito, just 10 min. away from the host hotel.
The Royal Trail (450) Start
Friday, January 10th, 2020
7:00 AM
Playa Dominical
Osa, Puntarenas
Getting There:
Dominical Beach is located in the southern pacific of Costa Rica, approximately 3.5-4 hours from San José depending in whether you travel 160 KMs via Cerro de la Muerte (National Route 2) or 200 KMs via Coastal Highway (National Route 34).
The official start will be on the beach near the mouth of the Barú river.
The Cattle Drive (280) Start
Saturday, January 11th, 2020
7:00 AM
Orotina
Orotina, Alajuela
Getting There:
Orotina is about an hour's journey from San José. Located along National Route 27, Orotina is just about 50 KMs away from the airport and most location around Costa Rica's Central Valley. The 280 race will start from the Orotina Central Park.
Finish Line Location and Closure
Monday, January 13th, 2020
7:00 PM
Santa Elena de Santa Cecilia
La Cruz, Guanacaste
Getting There:
The finish line is located about 8 kms from the town of Santa Cecilia near the Nicaraguan border. The exact location used for the finish is a primitive road used only for local residents. We'll be expecting riders to finish as early as Saturday 11th and all the way until the finish lines closes on Monday, January 13th at 7:00 PM. Riders on the 630 course will have a maximum of 130 hours or about 5.5 days to complete the journey. The 450 y 280 course will have a maximum of 84 and 60 hours respectively to complete their adventure which is about 3.2 and 2.5 days.
There will be a cut off point at Bagaces (about 120 KM from the finish) on Monday, January 13th at 7:00 AM.